Our Lady of the Valley Roman Catholic Church
Easthampton, Massachusetts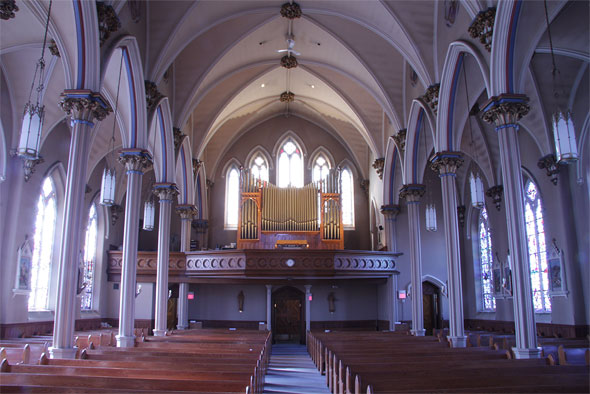 The original building for Our Lady of the Valley was ravaged by fire in the late 19th Century and was rebuilt on the same foundation, at which time a large and elegant Steere organ was installed.  The splendid stained glass windows, featuring brilliant blues, date from the 1950s and 1960s, and are largely the work of the Connick Studios of Boston; some older windows remain in the chancel.  In 1971, the pipe organ's main wind reservoir burst and the instrument became unplayable.  Fortunately, the Parish had the foresight to envision a future restoration and refused to sell the pipework.
Over the next seventeen years, during which an electronic instrument was used, funds were raised for the rebuilding of the organ in 1989 by Messrs. Czelusniak et Dugal, Inc.  Followed during 1999-2001, the Firm completed Tonal Renovations and enlargement of the organ from 20 to 24 ranks (of old stock from other sources), carefully matched to Steere style, and rearrangement of string ranks (with original scaling and voicing) for Celeste's on both manuals.
The organ still retains its original character while having 20th century technology in the console.  The gentle sound of this instrument is enhanced by the warm acoustics of the church.
STOPLIST
| | | GREAT | | | | | |
| --- | --- | --- | --- | --- | --- | --- | --- |
| | | | | | | | |
| 1 | | Open Diapason | 8' | | | | |
| 2 | | Melodia | 8' | | | | |
| 3 | | Dulciana | 8' | | | | |
| 4 | | Unda Maris (CC) | 8' | | | | |
| 5 | | Octave | 4' | | | | |
| 6 | | Flute d'Amour | 4' | | | | |
| 7 | | Twelfth | 2-2/3' | | | | |
| 8 | | Super Octave | 2' | | | | |
| 9 | | Mixture III | 1-1/3' | | | | |
| 10 | | Tuba | 8' | | | | |
| 11 | | Chimes | | | | | |
| | | | | | | | |
| | | | | | | | |
| | | SWELL | | | | | |
| | | | | | | | |
| 12 | | Bourdon | 16' | | | | |
| 13 | | Open Diapason | 8' | | | | |
| 14 | | Stopped Diapason | 8' | | | | |
| 15 | | Viola da Gamba | 8' | | | | |
| 16 | | Voix Celeste (CC) | 8' | | | | |
| 17 | | Flute Harmonique | 4' | | | | |
| 18 | | Violina | 4' | | | | |
| 19 | | Flautina | 2' | | | | |
| 20 | | Oboe and Bassoon | 8' | | | | |
| 21 | | Solo Tuba (Great) | 8' | | | | |
| 22 | | Tremolo | | | | | |
| | | | | | | | |
| | | | | | | | |
| | | PEDAL | | | | | |
| | | | | | | | |
| 23 | | Open Diapason (wood) | 16' | | | | |
| 24 | | Bourdon | 16' | | | | |
| 25 | | Lieblich Gedackt (Swell) | 16' | | | | |
| 26 | | Open Diapason (metal) | 8' | | | | |
| 27 | | Bourdon (extension) | 8' | | | | |
| 28 | | Still Gedackt (Swell) | 8' | | | | |
| 29 | | Octave (extension) | 4' | | | | |
| 30 | | Stopped Flute (Swell) | 4' | | | | |
| 31 | | Trombone (extension of Great Tuba) | 16' | | | | |
| | | | | | | | |
| | | | | | | | |
| | | COUPLERS | | | | | |
| | | | | | | | |
| 32 | | Swell to Swell 16' | | | | | |
| 33 | | Swell to Swell 4' | | | | | |
| 34 | | Swell Unison Off | | | | | |
| 35 | | Swell to Great 16' | | | | | |
| 36 | | Swell to Great 8' | | | | | |
| 37 | | Swell to Great 4' | | | | | |
| 38 | | Great to Great 16' | | | | | |
| 39 | | Great to Great 4' | | | | | |
| 40 | | Great Unison Off | | | | | |
| 41 | | Swell to Pedal 8' | | | | | |
| 42 | | Swell to Pedal 4' | | | | | |
| 43 | | Great to Pedal 8' | | | | | |
| 44 | | Great to Pedal 4' | | | | | |