St. Mary R. C. Parish Church
of  Westfield, Massachusetts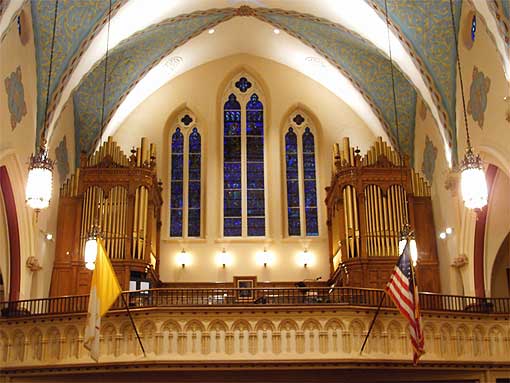 Casavant Frères, Limitée, St-Hyacinthe, Québec, Canada, Opus 78, 1897, 2 manuals, 17 ranks, Mechanical action throughout, with the console attached to the Récit casework. A new wind system was applied throughout the organ during an overhaul by the Berkshire Organ Co., Inc., West Springfield, Mass., as their Opus 30 of 1968, also with slight voicing alterations then.
In the spring of 2005, the organ was transferred by the Clergy within the Diocese of Springfield, Mass.; in July of that year, it was documented carefully, dismantled, and removed from Notre Dame R. C. Church, Pittsfield, Mass. into safe storage by Messrs. Czelusniak et Dugal, Inc. of Northampton, Mass. In the spring of 2008, the instrument underwent a complete, careful, and conservative overhaul for installation in St. Mary's R. C. Church, Westfield, with two new blowers provided and a new tracker-action span to the Grand Orgue and Pédale divisions, built for the wider stretch between cases in this choir loft. The two ranks of reed pipes in the Récit division were restored during the spring of 2012.
Inaugural Recital, Sunday, April 26, 2009,
at 4 o'clock in the afternoon, by


Members of the Springfield Chapter

,
American Guild of Organists
STOPLIST
|  I. | GRAND ORGUE | 58 | notes | (Unenclosed) | | |
| --- | --- | --- | --- | --- | --- | --- |
| | | | | 4 stops; 4 ranks | | |
| | | | | | | |
| 1 | Montre | 8' | 58 | pipes | Bass en-façade of Grand Orgue casework | |
| 2 | Mélodie | 8' | 58 | " | | |
| 3 | Dulciane | 8' | 46 | " | Bass common with Mélodie | |
| 4 | Prestant | 4' | 58 | " | | |
| | | | | | | |
| | | | | | | |
|   II. | RÉCIT | | 58 | notes | (Enclosed & Expressive) | |
| | | | | | 8 stops; 11 ranks | |
| | | | | | | |
| 5 | Principal | 8' | 58 | pipes | | |
| 6 | Bourdon | 8' | 58 | " | | |
| 7 | Gambe | 8' | 58 | " | | |
| 8 | Voix Céleste | 8' | 46 | " | From tenor C | |
| 9 | Flûte Harmonique | 4' | 58 | " | | |
| 10 | Flautino | 2' | 58 | " | | |
| 11 | Mixture III | 2' | 174 | " | | |
| 12 | Trompette | 8' | 58 | " | | |
| 13 | Hautbois | 8' | 46 | " | Bass common with Gambe | |
| 14 | Trémolo | | | | | |
| | | | | | | |
| | | | | | | |
| III. | PÉDALE | | 27 | notes | (Unenclosed) | |
| | | | | | 2 stops; 2 ranks | |
| | | | | | | |
| 15 | Bourdon | 16' | 27 | pipes | | |
| 16 | Flûte | 8' | 27 | " | En-façade of Récit casework | |
| | COUPLERS AND ACCESSORIES | | | |
| --- | --- | --- | --- | --- |
| | | | | |
| 17 | Grand Orgue à la Pédale | | | |
| 18 | Récit à la Pédale | | | |
| 19 | Récit au Grand Orgue | | | |
| 20 | Récit Octave Grave au Grand Orgue | | | |
| | | | | |
| | Pédale d'expression Récit | | | |
| | Jeux de Combinaisons Piano | | | |
| | Jeux de Combinaisons Mezzo Forte | | | |
| | Jeux de Combinaisons Forte | | | |